Our Team
Learn more about our great South Bend Assisted Living team at Wood Ridge Assisted Living!
Amanda Quesenberry, Administrator
Amanda started her senior living career with Ridgeline Management Company in 2009 as a Resident Assistant. Through the years she has worked her way up to Administrator, which she has been for 5 years. Some of her greatest work experiences were when she was a traveling Administrator in 2015 working with multiple communities in several states, including Wood Ridge. Now she is returning as the full-time Administrator, ensuring compliance with policies and regulations as well as making Wood Ridge a great place to live and work! When not at Wood Ridge, Amanda enjoys the outdoors, reading, live music, volunteering, and traveling.
Deejra Lee, Sales & Marketing Director
Deejra Lee joined the Wood Ridge team in September 2015 as the Life Enrichment Director. Serving as the Sales and Marketing Director now at Wood Ridge, she is the first voice and face you meet in our community. Deejra has over 10 years of experience working with seniors. She will be receiving her Bachelor's Degree in Public Relations and Marketing in the upcoming Spring. Deejra has a real passion for seniors and loves to put smiles on our residents' faces. She grew up in the small town of Buchanan, Michigan. She is a huge sports fan and an even bigger LeBron James, Cleveland cavaliers fan. She enjoys dancing, shopping, watching sports, and especially spending time with her husband and two handsome sons. Deejra is looking forward to starting her new career with Wood Ridge and making a difference in our community.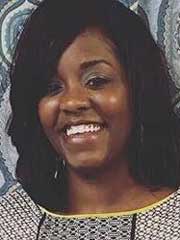 Dachel Smith, Health Services Director
 Although Dachel is new to Assisted Living she has 23 years of experience working as a nurse in Geriatric care. She is a great fit for our community because she loves people and loves smiling. She is also very kind, considerate, outgoing, and direct. When she isn't working she might be found on stage either as a soloist or with her Gospel Band. Dachel has been a life long resident of South Bend and loves being active not only in the community but as a member of Greater St. Matthew's Church. She and her daughter can be seen working and participating in events around town.
Shaunta Humphery, Dining Services Coordinator
Shaunta has served in the Senior Living field for 15 years, with seven of those at Wood Ridge. She is proud of making residents happy and loved by serving good food, while running an organized and orderly kitchen. When Shaunta is not spreading joy by cooking nutritious meals, she can be found caring for her new baby, dancing or shopping. She was acknowledged recently as a Ridgeline Rock Star for her dedication and exemplary contribution to the community.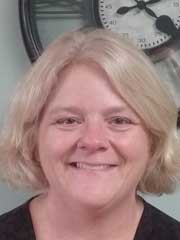 Christine Bayne, Activities Director
Chris started out in the housekeeping and laundry departments in healthcare. She then became an Activity Director, which she has been doing now for seven years. Chris enjoys working with seniors and making a difference in their lives. She really loves seeing them smile after they've enjoyed an activity and hearing their stories about life. Chris has been married to her husband Mike for 10 years and has five children and eleven grandchildren. She is a big Notre Dame fan, enjoys camping, gardening, playing with her three dogs, water aerobics, and spending time with her husband on the weekends.
Carly Singleton, Business Office Manager
Carly joined the Wood Ridge team in July of 2013. She began her career in healthcare at the age of fifteen, as a volunteer at a local nursing home. Carly has worked as an activity assistant and a CNA before joining the team at Wood Ridge. Here she has served our community as a CNA, community liaison, and now the Business Office Manager. She often says she is glad to be a part of the Wood Ridge family, where she can play a part in enhancing the lives of residents. She graduated from John Glenn High School and continued her education at Ancilla College, where she received her Associates degree in Health Science. Carly is an outdoor enthusiast, who loves animals. She resides in South Bend with her significant other, their two children Brooklyn and Kaleb, her niece Layla and their two dogs. She is a family-oriented person and relishes spending time on the weekends with her mother and grandmother.
Ki-Esha Turner, Community Liaison
Ki-Esha has recently joined the Wood Ridge team. She came to us as a CNA and transitioned to the Community Liaison position when the position became available. She learned she had a passion for caring for people after taking care of her mother after open heart surgery 9 years ago. When she isn't working she loves to read and can be seen reading anything from fiction to nonfiction. She especially loves biographies. Ki-Esha is originally from Memphis but currently lives in South Bend with her three children.
Mike Cavinder, Maintenance Director
Mike has many years of experience in maintenance and more than 7 of them have been spent working with seniors. He is originally from La Porte but now resides on the South side of South Bend with his wife Holly. They have enjoyed 36 years of marriage and raising 3 children who are all now adults. When Mike isn't hard at work he enjoys Bikes. Everything to do with fixing, building, and riding them. He is most proud of a beach cruiser that he built himself. He also enjoys walking and playing with his 3 dogs.